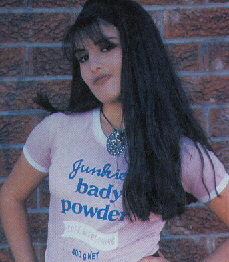 Ada Nicodemou
plays Leah Patterson
Ada Nicodemou stars as Leah Patterson on Home and Away, a girl with a big heart and an even bigger ability to talk.

Ada, born on May 14th, 1977, was born and raised in Sydney.

As a kid, Ada went through phases but says that she always wanted to be famous and successful in whatever she did.

She joined the 'Johnny Young Talent School' and a dance show group called 'Kids Unlimited'. It was after joining these groups that she decided to get an agent.

Her first break in television at 13 years of age, funnily enough, was on Home & Away. Unfortunately she missed out on a role that went to Laura Vasquez. She did however do some 'extra' work on the show, which gave her the opportunity to see the behind-the-scenes workings of a television series.

'I remember watching Home and Away and I really wanted to join the show. Mum drove me to the auditions and there were so many girls there. I did go for a role, but missed out. I was very happy for Laura but do remember having to sit behind her in the classroom as an extra and wishing I was in her spot. So now that I am here, I really feel like I have gone the full circle and am back where I belong,' she says.

At 15, she auditioned for a new show called Heartbreak High and in March of the following year, when she was about to turn 16, they called her in for a 12 week guest stint. This short stint turned into a 3 year role where she played a character called Katarina.

During this time, Ada also had a role on Police Rescue, as she had agreed take up a role on the show before she was asked to become a regular on Heartbreak High.

Ada promised herself, when taking up the role on Heartbreak High, that she would complete her studies. Ada decided to study by correspondence in her last year of High School (Year 12), and balanced the two - studying scripts with studying for her final exams.

Ada deferred her tertiary studies for a year whilst she finished Heartbreak High. At 19, Ada studied Tourism at Tafe, where she had to organize events for clients and product placement.

In July 1999, at 21 years of age, she returned to television and took up the role as Fiona in Breakers. She then took a short break from the show to do a cameo role in the film The Matrix, (1998) starring Keanu Reaves.

In late 1999, she flew up to the Gold Coast to take up a role in the American television show Beast Masters, where she played a water nymph.

After that role, she joined Home & Away, which she was really looking forward to. 'I was basically making up for lost time, I have wanted to be apart of this production for a long time and I love being with the show,' she says.

Ada plays Leah Poulos, the Australian born daughter of Greek parents. Leah is proud of her heritage and devoted to her family. Since finishing school she has worked in her father's restaurant and developed into an accomplished chef. Leah is passionate about life and she will cry at the smallest injustice in life and boy can she talk! But she is also a good listener and will always provide a shoulder to lean on.

Leah came to Summer Bay alone and has nowhere else to go. She falls for Vinnie (Ryan Kwanten) who she tames, after being known as a ladies man. Viewers watched the wedding of the year between Vinnie and Leah and then celebrated with them as the birth of baby VJ into the world and cried with her when Vinnie went to Jail, paying for his father's crime of fraud. Now they watch her bringing up baby VJ on his own and dealing with the fact that he is deaf.

'I think she is very sweet and funny. She comes from a very strict Greek family and has a great set of morals that I think she has instilled in Vinnie as well. I really enjoy playing Leah because I can understand her thought processes,' she says.

Ada lives at home with her family which consists of her mum and younger brother.

In her spare time she likes going to the movies and spending time with friends, dancing and keeping fit by enjoying the great outdoors and walking everywhere.

One thing that does distinguish her from her character is that she's not a cook.

'I am about the worst cook in the world. Mum has always done the cooking and she is brilliant so I have always left it up to her, but hopefully I may pick up a couple of tips through Leah.' She says.

To top it all off, Ada was nominated for the highest achievement in an actor's career- a Gold Logie at the TV Week Logie Awards last year and was nominated once again this year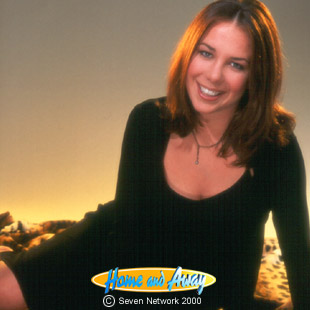 Kate Ritchie
plays Sally Fletcher
Kate Ritchie was born on August 14, 1978, in Goulburn, rural NSW.

Through her role on Home & Away, television viewers have watched Kate grow up in Summer Bay. She filmed the pilot of the show in 1987 and has been in the series ever since, in the role of Sally Fletcher. At only 22 years of age Kate could be called a veteran of television having been involved with Home & Away for 15 years.

Before Home & Away, Kate had a role in the mini-series Cyclone Tracy.

During her time on Home & Away, Kate combined her long-term role as Sally with her education, completing the HSC in 1997. Kate studied through a program called 'Pathways' that allowed her to study for the HSC over three years, so she could continue her role on Home and Away. She was very pleased with her overall result.

On finishing her studies, Kate says, 'It was hard to combine both school and working on Home and Away, but it was something I felt I had to do for my own self worth. I am glad I persevered as it allows me to keep my options open for life after Home & Away. I was so relieved when it was all over and I could finally use all of my energy on Home & Away.'

Kate is enjoying her character's development and says, 'Regardless of the fact a lot of people will forever see Sally as a kid, she is now a young woman dealing with adult issues.'

After finishing University, having started out studying Archaeology and then doing a Diploma of Education, Sally is now a history teacher at Summer Bay, where she was once a student herself. It seems as though life has come full circle.

Sally is dependable and in Kate's words, 'If she was your daughter you wouldn't have a great deal to worry about.'

Despite all that, for someone so young, she has quite a list of 'failed' relationships under her belt. She even made it down the aisle once, but ran from the church when it was revealed that her fiancée Kieran (Spencer McLaren) had been sleazing onto Gypsy (Kimberley Cooper).

But Sally has finally found love and is currently going out with Flynn (Martin Dingle-Wall) who hopefully she can see a future with.

'There is still much for Sally to do in Summer Bay. Perhaps one day it will be her time to run the caravan park and start fostering children! All I know is that I still enjoy this job after all these years and that is why I am still here,' she says.

Kate joins veteran actors Ray Meagher (Alf) and Norman Coburn (Fisher) in the Guinness Book of Records for being the longest serving actors on an Australian drama series.

When Kate manages to find time she likes to catch up on the latest movies and eat out with friends, although she does love to cook. She has singing lessons once a week and even has her Scuba diving licence - both of these being something that she would like to have more time to pursue.

Her family consists of her parents, two younger sisters and a younger brother. She currently lives in the Eastern Suburbs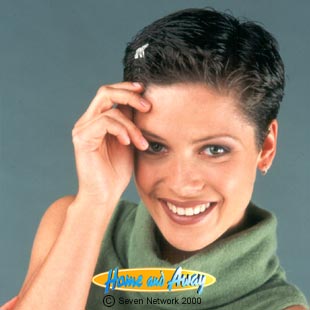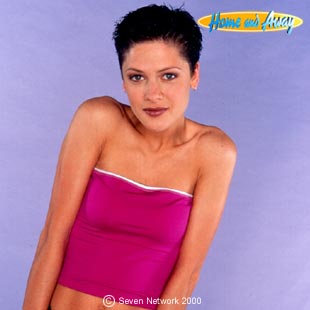 Kylie Watson[shauna bradley] was born 7th may 1978 in canberra,she has been doing modelling since the age of 14,Kylie plays the head life saver in the bay but has had to quit because of a heart problem she now trains kirstie sutherland in tri-atheletics.
Home and Away is Kylie's first acting job and is no stranger to the camera having done catalogues and commericals when she was younger,she has also represented Australia in international beauty pageants.
Kylie also dances,plays the drums and piano,loves swimming and claims to be Sydney's best bargain shopper.