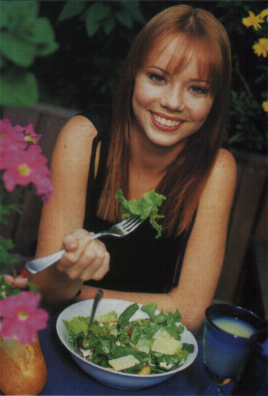 Kimberley's Caesar Salad
You'll need:
2 garlic cloves, finely chopped

2 tsp Worcestershire sauce

1 tsp Dijon mustard

2 tbsp balsamic vinegar

1/2 cup olive oil

3 bacon rashers

extra oil [ for cooking ]

1 cos lettuce

1 cup parmesan cheese [ shredded, grated or sliced ]
Method:
1- In a blender or food processor, blend garlic cloves, Worcestershire sauce, Dijon mustard and balsamic vinegar.

2- Pour mixture into a covered container and add olive oil. Shake well.

3- In a lightly oiled saucepan, fry bacon. Allow to cool, then cut into small strips.

4- In a large bowl, break up cos lettuce. Add dressing, then mix in shredded or grated cheese, or decorate with sliced cheese.
Serves: 4

Preparation time: 10 minutes